Well we are getting ready to release another blog train. This one is called Caribbean Sea. It will be ready for download tomorrow (Feb. 25th). Here's a sneak peak at my part. Have fun!
~Tracy
Preview of my part: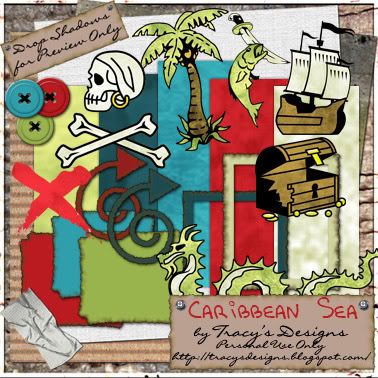 *Freebie download has expired*
My kit includes:
5 papers
2 frames
3 journal blocks
3 buttons
2 arrows
1 palm tree
1 fish
1 treasure chest
1 sea creature
1 ship
1 knife
1 Red X(marks spot)
1 skull & crossbones
Blog train Preview:
http://www.spinkydinkscraps.blogspot.com
http://caittaylor.blogspot.com/
http://tracysdesigns.blogspot.com/ <<<---YOU ARE HERE
http://edenlanedesigns.com/?cat=1
http://giftedgoose.blogspot.com/
http://shanmomto4.blogspot.com
http://neverendingfairytale.com/scraps
Here is a LO that
Amanda
made using my part of the blog train.